LA County Planning established its Unmanned Aircraft Systems (UAS) Program for inspections of sites that are large, remote, difficult-to-access, or have safety concerns. Common land uses inspected with UAS, also known as "drones," include large landfills, surface mines, solar farms, tall wireless communications facilities, hazardous industrial use properties, and other challenging sites.
By providing airborne support to land use planning operations in a safe, responsible, and transparent manner, LA County Planning's UAS Program improves quality of life through innovative and resourceful physical and environmental planning, balancing individual rights and community needs.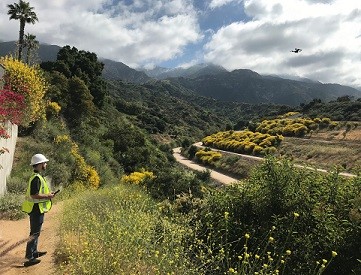 Frequently Asked Questions (FAQ)
1. What is a UAS?
UAS stands for unmanned aircraft systems and are commonly known as "drones". A UAS is an aerial device with an onboard computer that is operated remotely, generally by a pilot on the ground using a handheld controller. Small drones, such as the ones used by LA County Planning, are battery operated, weigh between .55 and 55 pounds, have several rotors, and are equipped with a camera.
2.What does LA County Planning use UAS for?
Currently, LA County Planning uses UAS for site surveys, entitlement processing and zoning enforcement purposes, including compliance monitoring and permit compliance inspections. Such inspection sites must meet certain criteria for a UAS inspection. UAS are used for inspections where sites are large, remote, difficult-to-access, or have safety concerns. In the future, the UAS program may be used for surveying and mapping.
3. Who operates a UAS?
The UAS are operated by LA County Planning staff who have their Federal Aviation Administration (FAA) Part 107 license and completed the required flight training. Each UAS flight is operated by at least two LA County Planning staff who serve as the pilot-in-command (PIC) and visual observer (VO). The VO assists the PIC by keeping an eye on the UAS and advising the PIC about other air traffic or objects aloft or on the ground.
4. What rules and regulations must LA County Planning UAS pilots follow?
LA County Planning UAS pilots are subject to FAA regulations related to airspace use. UAS Pilots also must follow the LA County Planning's Unmanned Aircraft Systems Program Policy.
5. Will you be using a drone to spy on my property?
Respecting your privacy is a top priority for the UAS program. A UAS will not be used where a person would have a reasonable expectation of privacy, such as private backyards or inside private buildings, except where authorized by a court order. In addition, the program policy specifies that a UAS can be used at sites where consent has been granted or for permit compliance inspections.
6. Am I going to be charged more for permit inspection conducted by a UAS?
Any permit inspection fees are in the permit conditions and are not affected by UAS usage.
7. What type of drone(s) does LA County Planning operate?
LA County Planning owns and operates Skydio and DJI drones.
Contact Information
If you have any comments, suggestions, or concerns, we would love to hear from you! Please email us at UASprogram@planning.lacounty.gov or call us at (213) 974-6483.
Resources
For more information on the UAS Program, please view a recording of the program's May 27, 2020 webinar, "Drones for Planning: A Higher Standard."
For questions related to federal UAS regulations, please visit the FAA website.