November 30, 2023 Updates
Board of Supervisors Hearing Moved to January 30, 2024
On September 13, 2023, the Regional Planning Commission unanimously recommended approval of the Metro Area Plan (MAP) to the Board of Supervisors.
Previously scheduled for a public hearing before the Board on December 12, 2023, the hearing has now been rescheduled to January 30, 2024.
Prior to the public hearing, the Executive Office of the Board will send out hearing notices via mail and email at least 30 days prior to the hearing to those who have been involved in the process. To find out more about this process, click here: https://bos.lacounty.gov/board-meeting-agendas/public-hearings/
The Metro Planning Area is one of the 11 Planning Areas established by the General Plan. The Metro Area Plan (MAP) is a long-range planning document that provides a policy framework for how and where the seven unincorporated communities within the Metro Planning Area will grow over the next 15 years, while celebrating the culture and history of these communities. The seven communities include East Los Angeles, East Rancho Dominguez, Florence-Firestone, Walnut Park, West Athens-Westmont, West Rancho Dominguez-Victoria, and Willowbrook.
The MAP aims to streamline and update existing County regulations in these communities to encourage more housing development, and multi-modal transportation, while focusing on environmental justice issues. The MAP will consider the guiding principles of the General Plan including: Smart Growth, Community Services & Infrastructure, Economic Strength & Diversity, Environmental Resource Management, Healthy, Livable & Equitable Communities, and Community Voices, Strengths & Equity Outcomes.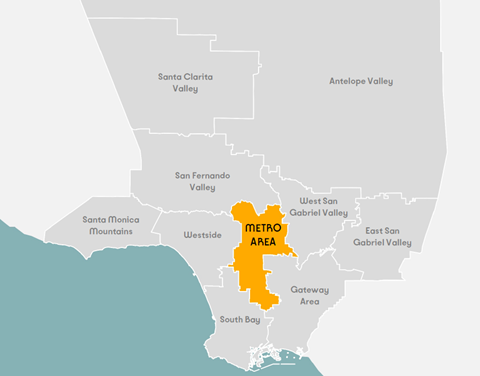 Timeline
The planning process for the Metro Area Plan project commenced in 2021 with the preparation of community background studies and profiles, engagement with a Technical Advisory Committee and the Community Advisory Committee, and conducting community events, workshops, and other public outreach activities. The draft Metro Area Plan, ordinance and Draft PEIR were released in Fall, 2022.
Next Steps
The following are next steps in the MAP project:
Recirculate the Draft PEIR for 45-day public review period from June 12, 2023 – July 28, 2023.
Circulate the Public Hearing Draft Metro Area Plan on June 12, 2023 and the ordinance starting in July, 2023.
Hold a duly-noticed public hearing on the MAP project before the Regional Planning Commission, tentatively scheduled for September 13, 2023.
Our community outreach efforts has two major phases. We completed the first phase of our community outreach in the fall of 2021, and have our next round of outreach planned for the spring of 2022. Please check out our events page for more information and to learn more about our community outreach strategies.